Paulownia Wood Alaia Blanks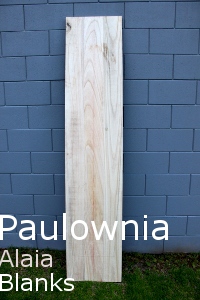 Our Paulownia wood alaia blanks sell for $150 a piece when you buy a single blank and $125 per blank when you buy two or more.  They measure:
Height: 7'8″
Thickness: 3/4″
Width: 18″
All blanks are made of strips of various widths that have been glued together.  Individual strips can also be purchased for those who'd like to join them on their own.
Paulownia is an exceptional wood for most any woodworking project.  Our paulownia blanks' tight grain and light weight however, make it ideal for ocean use.  Though most of our customers have used it for alaia surfboards, some have used our paulownia alaia blanks to make waveski's, kite boards, and other ocean crafts.